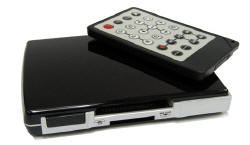 Typical Recording Time for 1GB memory card
Mode
Economic
Normal
Fine
Super Fine
Mobile 176x120
500 min.
400 min.
333 min.
200 min.
Mobile
176x144
500 min.
400 min.
333 min.
250 min.
PSP
368x208
250 min.
143 min.
N/A
N/A
PSP
320x240
250 min.
143 min.
N/A
N/A
iPod
320x240
N/A
N/A
93 min.
77 min.
TV
640x480
250 min.
143 min.
111 min.
60 min.
| | |
| --- | --- |
| | Easy. Hooks up to any video sources like a VCR. |
| | Convenient. Plays directly on the memory card. Or simply transfer the file to your iPod™ via iTunes. |
| | Unlimited. Records from any video source. Opening new sources of video content for your portable devices. |
Watching video on your portable device has never been easier before. The MR110 Memory Card Video Recorder provides an easy way to view TV programs and movies with a Sony PSP™ (PlayStationâ Portable), Video iPod™ or other compatible players. It records from any video source, including TV and DVD players, onto memory cards in MPEG-4 format that playback directly in those devices. It is easy-to-use just like a VCR and operates without a computer. In addition to its recording function, the MR110 combines an MPEG-4 video player, photo viewer and MP3 music player in the same compact unit.
Features:
Records from any video sources such as TV, DVD players, VCR, Camcorders, DVRs, Satellite/Cable TV

Simple setup and easy-to-use like a VCR, no computer is required

High quality video recording at full frame rate of 30fps, up to 640 x 480

Supports Memory Stick, SD, MMC, CF memory cards and Microdrives

MPEG-4 video format allows you to view content directly on your PSP™ or other player that accepts Memory Stick, SD or CF memory card

Popular player supported:

| | |
| --- | --- |
| | Sony PSP™ |
| | Apple Video iPod™ |
| | Nintendo Game Boy Micro |
| | Creative Zen Vision:M |
| | Windows Pocket PC |
| | Mobile phone with MPEG-4 video player |
| | Portable media player that supports MPEG-4 video |

5 resolution settings:

| | |
| --- | --- |
| | 176 x 120 for playback in mobile phones |
| | 3GP (176 x 144) for playback in mobile phones |
| | WQVGA (368 x 208) optimized for playback of wide screen movies on PSP |
| | QVGA (320 x 240) for playback on Video iPod™, Smartphones, PDAs and most portable media players; and |
| | VGA (640 x 480) for near-DVD quality playback on TV |

Timer recording with up to 6 recording program

Exchange Video/Music files between different memory cards

Video/Photo Player function - plays videos in MP4, ASF and AVI format and still pictures on TV

Music Player function - plays music in MP3 or WMA format

Uses Advanced Audio Codec (AAC) format for high-quality stereo sound

Menu Language: English, French, German, Spanish, Italian, Dutch, Japanese

Upgradeable firmware to keep updated of future changes